Highland Roofing Company Announces New Ownership
The founders of Highland Roofing Co. recently sold the Wilmington-based company to a couple who plan to continue its growth.
Jeanette Omdalen and Jamie Schmidt bought the commercial roofing company from Iain Fergusson and co-owner Rebecca Fergusson. The sale, for an undisclosed amount, closed Dec. 10.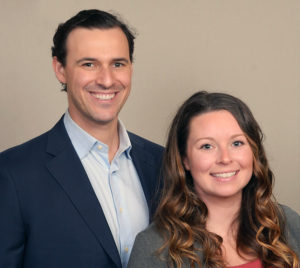 Founded in 2005, Highland Roofing has had a compounded annual growth rate of 15% since 2015, the year after it purchased Hanover Iron Works, Iain Fergusson said. The company has installed, repaired and maintained roofs for many of Wilmington's landmark facilities and also has a Raleigh office that's poised for growth, officials said.
"Our goal is to continue building on the foundation that Iain and Becca had created over the past 16 years, and so really, what we're here to do is to be enablers of growth," Omdalen, who is now CEO of Highland Roofing, said Wednesday. "We have a really strong team, and we are business builders at heart. The folks at Highland have such a good growth mindset and they have been really open to all the different opportunities."
Schmidt, Omdalen's husband, is Highland Roofing's new CFO, and the couple recently moved to Wilmington. Schmidt was previously CFO of Schmitt Industries Inc. (different spelling and no relation to Jamie Schmidt) in Portland, Oregon, and Omdalen was managing director of Xact Tank Monitoring and Acuity Lasers, two companies owned by Schmitt Industries.
For Highland Roofing, Schmidt said the new owners aren't making any changes to the 50-employee staff or the Wilmington location at 4310 Deer Creek Lane. He said they plan to set specific growth goals later.
"We really want to work with our leadership team and get our first year under our belt before we set a metric out there," he said. "We feel that they're the ones who have been running the business day to day and they know what the business is capable of."
Highland Roofing was boosted by the Hanover Iron Works purchase in 2014 and began focusing solely on commercial roofing in 2015. That acquisition "was a big catalyst and a big chapter in Highland's history in terms of us finding who we were," Iain Fergusson said.
The previous owners are currently working with Omdalen and Schmidt for a smooth transition, said Iain Fergusson. As far as what he will do next after selling the company, he said he's waiting to see what the future holds.
"I am very proud of what Highland has become, but it's time for new leadership," Iain Fergusson said. "I consider myself very lucky to have found great new owners who are buying Highland for exactly what it is and plan to continue the Company's success and to build upon, and further improve the great culture and team I'm so proud to have developed over the years."